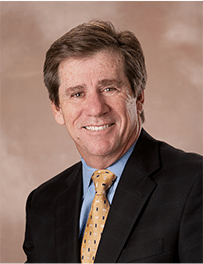 AREAS OF PRACTICE
Employment Law
Personal Injury
Criminal Defense
Wrongful Death
Tobacco Litigation
BAR ADMISSIONS
EDUCATION
University of Florida College of Law, Gainesville, Florida – 1975
University of Tulsa, Tulsa, Oklahoma
B.A.
HONORS AND AWARDS
Distinguished Service Award from the Florida Council of Crime and Delinquency
Distinguished Service Award from the Florida Professional Firefighters
Named "Person of the Year" in the category of Public Safety by the Gainesville Sun , 1994
Recipient of the Harry S. Truman "Buck Stops Here" Award
Champion of Justice Award by the N. Central Florida Police Benevolent Association
Listed in "Best Lawyers in America" Publication
Rod W. Smith
In 2000, the venerable old firm of Avera & Avera made one of the most significant moves in its 50-year history, adding Rod W. Smith as partner and changing the name of the firm to Avera & Smith, LLP.
Rod's impressive list of skills and accomplishments made his addition one that would allow the firm to offer its clients a much broader level of services including a greater level of trial experience, expertise in specific areas of practice, and the knowledge and leadership needed to help the continued growth of the firm. During the past decade, Rod Smith has been instrumental in helping Avera & Smith become one of the most qualified and capable law firms in the State of Florida.
Rod graduated from the University of Florida College of Law in 1975, and was admitted to the Florida Bar the same year. He has experience in employment law, criminal law, and personal injury.
Prior to joining Avera & Smith, Rod served as State Attorney of the Eighth Judicial Circuit from 1993 – 2000. During this tenure, he was nationally recognized by the Association of Capital Litigators as one of the nation's preeminent prosecutors.
Rod and his wife Dee Dee are also widely known for their belief in giving back to the community. Rod is frequently auctioneer for the annual Haven Hospice event, and participates in golf tournaments for charities such as the Child Advocacy Center.
Rod and Dee Dee have three children: Alison, Dylan, and son Jesse Smith, also an Attorney at Avera & Smith.